Powering the 67th Edition of the 4 Days of Dunkerque with Green Streaming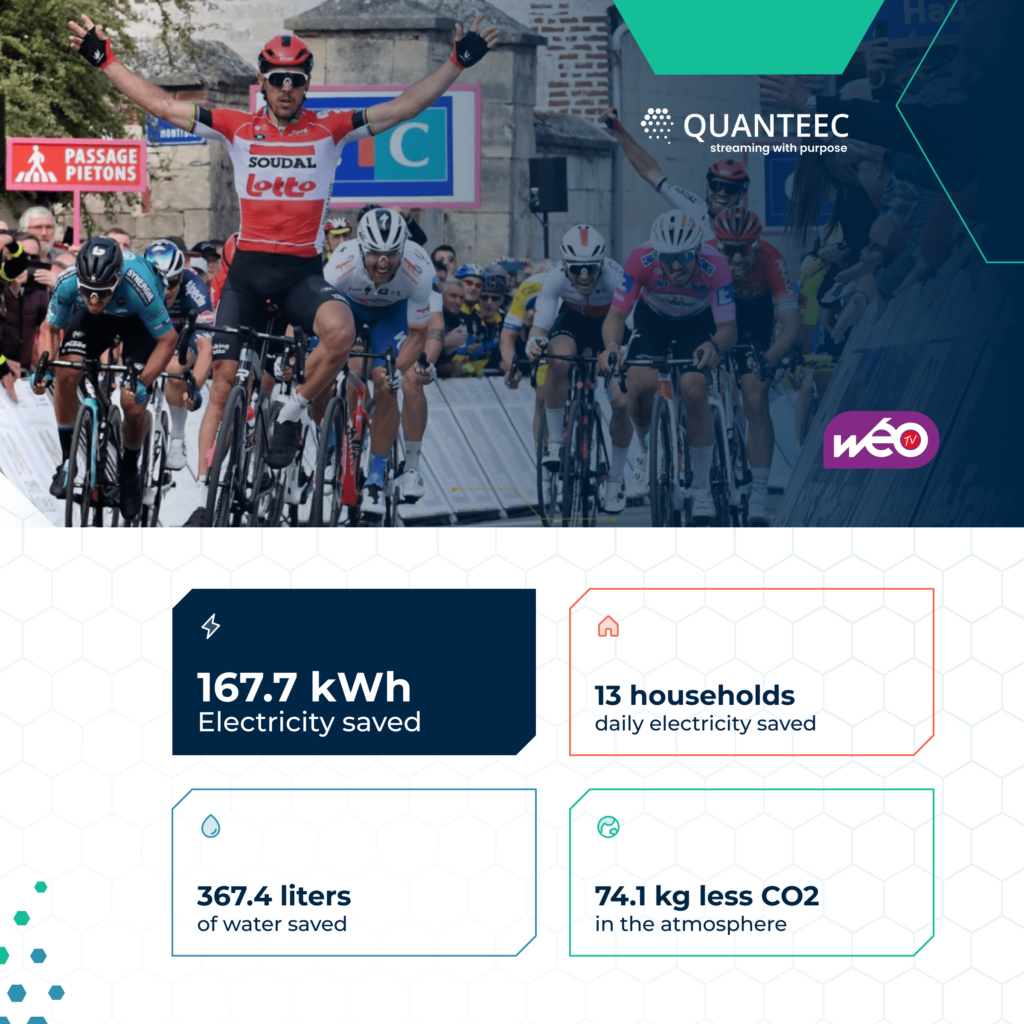 This year, our technology unexpectedly proved once again its relevance. In northern France, a very famous cycling competition, the 4 Days of Dunkerque, was streaming on one of our client's channels, leading to an unprecedented spike in viewership, with audience levels increasing up to fifty times in a second.
In late April, the world of sports witnessed the captivating 67th edition of the 4 Days of Dunkerque, the Grand Prix of Hauts-de-France road cycling. While the cyclists gave their all best on the roads, behind the screens, QUANTEEC's pioneering algorithm was hard at work, demonstrating its prowess during the live streaming on Wéo, the regional television of Hauts-de-France.
The Metrics That Matter
Do « More with Less ». Reflecting QUANTEEC's commitment to optimizing streaming performance with eco-responsibility, the algorithm achieved remarkable metrics during peak viewership. Server discharge rates touched a phenomenal 76%, with a commendable 35% energy saving. This wasn't just about numbers but about the impact – the equivalent of saving enough electricity to power 13 households daily!
Thanks to the synergistic partnership between QUANTEEC and Digiteka, the event's streaming could handle audience spikes 50 times higher than usual, maintaining optimal quality. A staggering 98% of video streams were delivered in the highest quality, making sure every viewer enjoyed a seamless experience.
Innovation at Its Best
These figures emphasize more than just numbers. They highlight the groundbreaking potential of technology to reshape industries. Such efficiency was achieved in a mere five minutes of setup, underscoring how agile and transformative our innovative solutions are.
The ethos of QUANTEEC lies in understanding the broader implications of streaming. In a world grappling with sustainability challenges, the environmental footprint of everything, including digital streaming, matters. Our technology, in tandem with our partners, showcases how streaming can be green, efficient, and economically viable.
A heartfelt thanks to Wéo and DIGITEKA for placing their trust in us. This collaboration not only amplified the grandeur of a sports event but also set a precedent in sustainable streaming.
To every sports OTT platform out there, our message is clear:
Ready to test the future? It's effortless, free, and packed with benefits.